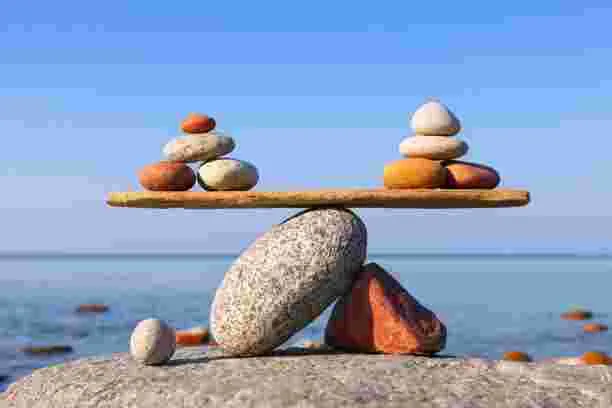 What is Work Life Balance? Why work life balance is so important today? What works to create a balanced life and what can I do to make my life balanced.

These are the common questions that have been often popping our minds umpteen times, especially when we feel that life is becoming very overwhelming. When we feel, work pressures are increasing to an extent that it seems there is no room for personal life. When the work expectations keep increasing and we reach a tipping point wherein it seems that no work is enough and the more I do, the more is expected.
It's an interesting space wherein we feel that neither can we leave what we are doing (as it seems we are doing so much), nor can we feel like continuing the same as it appears to be an unending demand- supply cycle of life.
One curious question that pops my mind is it just the work pressures that disturb the balance of life. What if, we have no work. What if, we have all the time in the world to do anything that pleases our mind and senses? What if we have work that is too less to keep us meaningfully engaged? What if the work is too simple to perform that makes the day so boring and hard to end? Would that mean a balanced life? Probably not!
Let's understand what Work Life Balance is…
What is Balanced Life?
What Makes Balanced Life So Important Today?
What works to create a Balanced Life?
How to Create a Balanced Life?
What is Balanced Life?
Balanced life is one that has both essential ingredients of Professional and Personal life. Professionally to learn and grow we need to be engaged in work that is interesting, engaging, challenging and satisfying. On a personal front we need to have time and space wherein we can be off work and do something that relaxes us, pleases us, energizes us. It appears as an interesting analogy of mountains and valleys, wherein we need both to enjoy to the fullest. Life without work is meaningless and life with only work can be dull and monotonous.
What Makes Balanced Life So Important Today?
With the tight schedules, project deadlines, health and fitness goals, family pressures, enhancing skills, competing tasks, social expectations, all put together makes the word Balanced Life almost like a dream like state for most of us. However, since is a mix of all this and none of them seem less important than the other, the need for having Balanced Life is felt more than ever before.
What works to create a Balanced Life?
Leading a balanced life is not a wishful dream but a core reality that most of us have had at least a glimpse of it ever in our life. The challenge comes to sustain it. Important is to come to a space wherein we can not only lead a balanced life but also know how to sustain it for our lives. This does not mean that challenges will not come, but it definitely means that irrespective of situations, circumstances, people or positions our intent and action towards creating a balanced life will always be there.
How to Create a Balanced Life?
At the very outset it is important to understand that leading a balanced life is not a tool or an app, wherein once the app is installed, life automatically runs in an auto pilot balanced mode. Rather, it is an intentional conscious thought which when practiced consistently can become a way of life.
Few interesting tools that can be practiced on regular basis is to chart out a weekday and a weekend schedule, wherein specific time can be allocated for all that you wish to work on, both on work front as well as your personal time to relax, sleep, exercise, play and/or meditate.
Another interesting tool that can be worked on is to create a Personal Vision Board wherein you take a big chart paper of a sheet large enough for you to put all your 'ideal dream life' pictures that you intend to work on. Now put all the action steps against every picture that you have posted, including both your work-related goals as well as personal, social spiritual goals. Do add the timelines, by when you intend to complete the goal.
Another interesting strategy that works really well is to set a goal for the day, record all that you intend to do in the day and how you'll keep yourself inspired towards those goals. Record this in your own voice and listen it during the course.
Hope the above thoughts give you the clarity and context in which you can work towards creating a balanced life. Designing Vision Boards, creating a To Do List and Not to Do List too works well to create more balance in life. I'm sure that working towards all that we have discussed will give you complete clarity of vision, action and create an ultimate balanced life. Interactively coordinate extensible imperatives whereas reliable.
Would you like to work on your self-developmental skills and make difference to the world? I invite you to join our Life Coaching Training Program at ACC level and PCC level.
This training program is ICF approved and offers 60+ hours & 154+ hours of approved coach specific training hours, peer practice coaching, observed coaching and mentor coaching hours and has many exclusive offerings for participants.
I offer trainings both at ACC Level and PCC level that are largely based on PURPOSE Model of Coaching that works truly students to make Transformational Leaps by tapping on their true potential both at Personal and Professional levels. My Live Interactive Webinars on Life Coaching are scheduled Every Wednesday 8-9PM IST and Sunday 12-1PM IST, You may book here https://calendly.com/cocoweave
New Batches are commencing from:
28th September'2023 Online Interactive ICF level-1 Training (ACC Level)
2nd September'2023 In-Person 5 Days Fast-Track Interactive ICF level-2 Training (PCC Level)
2nd September'2023 Online 5 Days Fast-Track Interactive ICF level-2 Training (PCC Level)
11th-15th October'2023 (Face to Face 5 Days ACC Level-1 Training Program)
10th October'2023 Online Interactive ICF level-2 Training (PCC Level)
I have been in this space of learning, training, mentoring and coaching for a long time, (since 2001) and have served many international conglomerates, with resounding success, learning and growing with every experience! I share incredible coaching tools and exercises, intensive coaching library, self-assessment dashboards and toolkit to accelerate your understanding of ICF coaching competencies at each level of ACC and PCC.
I offer trainings on core coaching competencies relating each with real life examples derived from your life, creating opportunities to learn and grow with every moment that we interact. You get an opportunity to put your learnings to practice through extensive practice coaching sessions with your peers and clients and continuous observations to improvise your learnings.